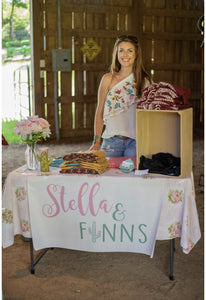 Happy Anniversary!
 Happy Anniversary!
Happy Anniversary Stella and Finn's! One year ago, I (as in me, Courtney, owner-operator or S&F) took a leap of faith, followed my dream and opened this online boutique. My goal was to bring together two things that drive me: agriculture and fashion. Say what?! That's right, agriculture and fashion. Let me explain:
I was raised in a farming family. I own a cow-calf beef herd and partner with my dad, my uncle and cousin working on our family farm. I had a short stint raising a flock of sheep but my patience – and fencing – is better suited for cattle! I grew up showing cattle and still do to this day. During my youth I quickly found that my talent was in the livestock show ring instead of the basketball court or softball field. I was perfectly happy with that. I feel most confident and more like myself when I am in the show ring with one of my heifers. I even named my business after one of those show heifers, I'll tell you more about that in another blog.
Yes, I'm a farmer. I'm also a girl who likes to dress up, dress down, and look good through it all. I've always enjoyed choosing clothes for me, as well as my friends and family. I like to try new styles and have fun with what I wear. This sometimes causes the men in my life - dad, uncles, cousins - to poke fun but it's all in good humor and I'm confident in how I dress!
Stella and Finn's allows me to combine these two passions. Our graphic tees are often agriculture themed and are suitable for young girls, young women like me as well as moms and other ag ladies who want to make a statement and be fashionable doing it. We also offer clothing from blouses and rompers to jewelry and dresses. We often hear from ladies who tell us that they have purchased styles from S&F that they may not have chosen for themselves in a brick and mortar boutique. Trusting our styles and knowing my background often gives women permission to step out of the box and try something new; be they a twenty-something, a farm wife or a prominent attorney.
One year has passed. Stella & Finn's is growing and allowing me more joy and purpose than I can even explain. This boutique has been a life-long dream of mine. I finally took the leap after the passing of my biggest cheerleader, my most loyal fan, my grandmother, "Maw." If I got my agriculture roots from my dad, I got my love of clothes and fashion from Maw. Stella and Finn's allows me to make my dream happen. It also gives me a way to honor the memory my sweet Maw who was much loved and the original family fashionista. Speaking of family, mine is very close. Most of the models you see on our website are family and friends that I consider family. You'll hear a lot more about my family in future blogs. You'll be introduced to our models and learn why they are so special to me and this business.
As Stella & Finn's launches a blog we promise to bring you engaging content from agriculture and showing livestock to fashion and family. We are excited for you join us!
---